Our volunteers deserve a year-round "ovation" in gratitude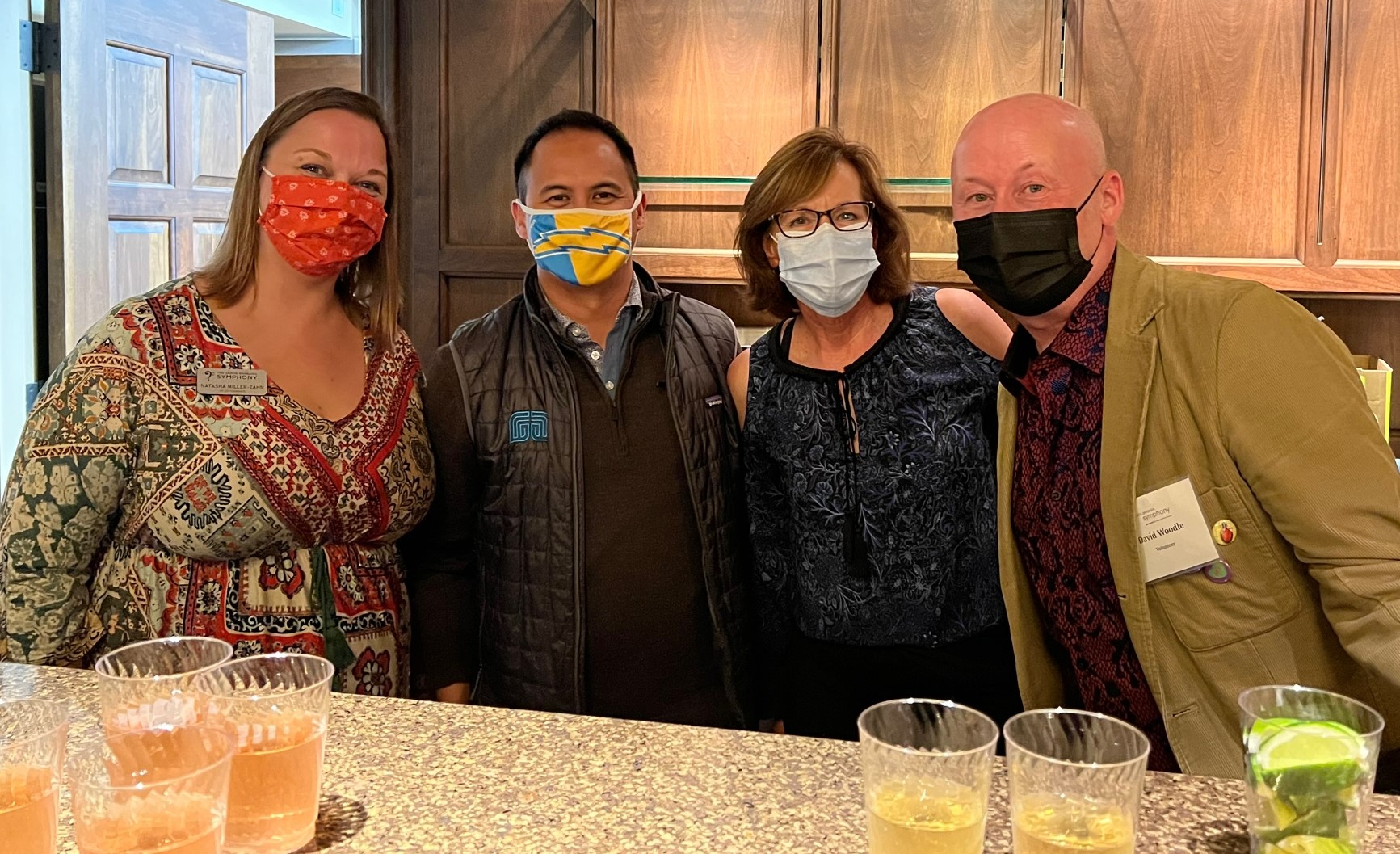 Now more than ever, our non-profit organization is grateful to the many volunteers who give their time, expertise and love to the Santa Barbara Symphony.
Since 1960, volunteers have been working alongside professional staff, musicians and instructors to help us deliver our mission to provide the highest quality musical experiences to the entire Santa Barbara community and to inspire a passion for symphonic music in the next generation of audience members, musicians and funders.
From assisting with music education programs, providing hospitality and housing for musicians, greeting audience members, and bartending at special events, your participation makes a difference.
We give our volunteers a year-round "ovation" in gratitude, and have named this group of fellow music-lovers committed to elevating the work of Santa Barbara Symphony, OVATION!
Do you enjoy baking or buying sweet or savory treats?  Making great music is hard work!  Help us bring sustenance to our valued musicians as a member of the Green Room Gang. The benefits are many:
Show off your baking/culinary skills
Feed hungry & appreciative musicians 
Be part of The Symphony family of supporters 
Receive the "prized" Green Room Gang apron. 
Green Room Gang recognition in concert programs.
Do you have a guest room?  A mother-in-law suite?  Many of our musicians drive up from LA and would love to stay at your home while in town for 3-4 nights during concert week. On the average we host about 35% of the musicians for each concert weekend. 
Hosting a musician is a low-impact yet highly valuable way to support the Symphony.  During the 2021/22 season, musicians were hosted 220 nights!  Multiply that number by the cost of one hotel room in Santa Barbara….and well, it's a BIG savings!
After every Saturday concert, our top donors are invited to the Maestro Reception and bartending is a fun and easy way to be involved!  Bartenders can either enjoy the first half of the concert, or come back on Sunday for the matinee.  It's a great opportunity to see the concerts and be part of the fun!  
Wine donations are always welcome as well!  Do you know someone who owns a winery?  Are you a member at a winery and don't like Rose?  We'll take it off your hands!  Sponsorship opportunities available!  We'll gladly promote your donation.
We have been so fortunate to have the support of Montecito Bank & Trust staff for many of our events.  Does your company have a volunteer program?  Would your employees like to be more involved with us?  As you can see, we have lots of fun options!
Music Education Volunteers
Parent and community volunteers help with handing out programs, serving cake, ice cream and water, and distributing balloons to the hard working music education students.
Please fill out this online application and we will contact you as volunteer opportunities become available. 
To become a member of Ovation and be our ambassador in the community we ask our volunteers to consider making a suggested donation of $100 or purchase a Subscription.