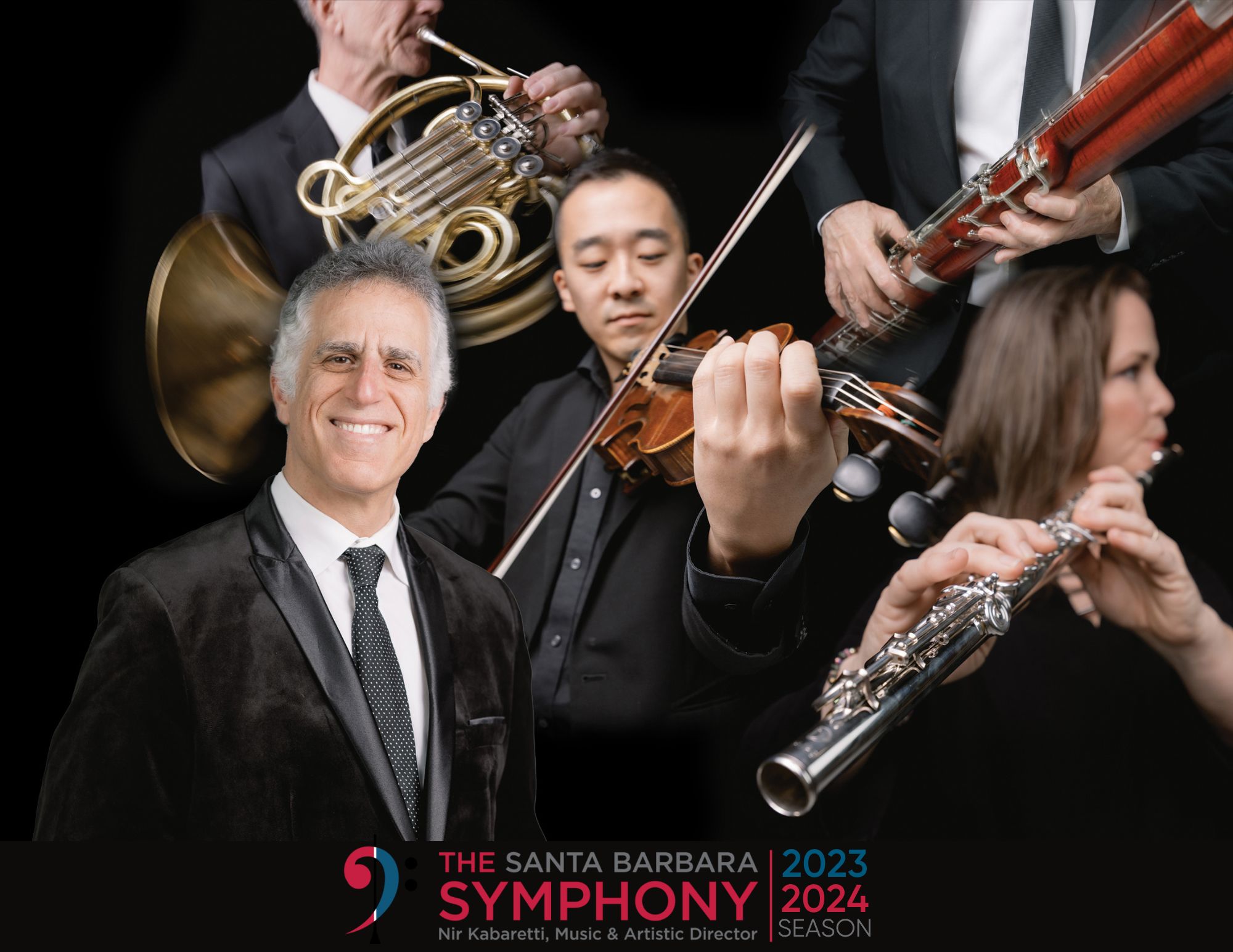 Music & Artistic Director Maestro Nir Kabaretti has assembled a spectacular season of diverse talent and repertoires to create a fantastic symphonic journey from classical traditions to genre-defying guest performers to accessible fan favorites, culminating in a Symphony season that is for everyone!
*All programs and artists subject to change.
Join us for a season of spectacular performances that bring Maestro Kabaretti's artistic vision to life.
When you purchase tickets you're not taking any financial risk. No matter what happens, we're going to offer you flexibility and choices. In the event that either we are forced to cancel, reschedule, or reimagine a concert or concerts in the 2023/24 season – or if your situation changes and you don't feel comfortable attending – the Santa Barbara Symphony will offer subscribers and ticket holders options and flexibility. Learn more here about our Ticket Policy. 
Nir Kabaretti, Conductor
Tony DeSare, Vocals and Piano
Frank Sinatra was one of a kind — an iconoclast whose musical legacy and style are as enduring as was his charm. Relive the magical moments of '40s, '50s, '60s and beyond as critically acclaimed singer/pianist Tony DeSare takes us on a journey back to a time when swing was king and crooners ruled. Dress to impress and plan for an evening as unforgettable as "ol' blue eyes" himself!
Nir Kabaretti, Conductor
Philippe Quint, Violin
Jonathon Leshnoff | Concerto Grosso (Commissioned for The Symphony's 60th Anniversary)
Felix Mendelssohn | Violin Concerto
Johannes Brahms | Symphony No. 1
Nir Kabaretti, Conductor
Jonathan Fox, Director
Inna Faliks, Piano
In collaboration with Ensemble Theatre Company
Ella Milch-Sheriff | The Eternal Stranger (based on a dream by Beethoven) – West Coast Premiere
Ludwig van Beethoven | Piano Concerto No. 4 in G major, Op. 58  
Ludwig van Beethoven | Symphony No. 4
Rei Hotoda, Guest Conductor
Presented in Partnership with The Granada Theatre

"E.T.," "Star Wars," "Jaws" — Five-time Oscar© and 12-time Grammy©-Award winner John Williams has been composing film scores for Hollywood's blockbusters for more than 50 years. His collaborations with directors Stephen Spielberg and George Lucas, whose movies attained cult status, not least because of his unmistakable music, are legendary. Hear these powerful cinematic moments come to life through the magic of live orchestral performance. This concert is part of the Granada Synergy Series.
Nir Kabaretti, Conductor
Natasha Kislenko, Piano
Ted Nash, Saxophone                          Josh Nelson Trio
Ernst Von Dohnanyi | Variations on a Nursery Song, Op. 25 
Ted Nash |  Transformation – World Premiere
Richard Strauss | Death and Transfiguration 
Maurice Ravel | Bolero
Nir Kabaretti, Conductor
Guillermo Figueroa, Violin
Elmer Bernstein, arr. Peter Bernstein | Toccata For Toy Trains concert suite — Concert World Premiere
Miguel Del Águila | Concerto for Violin  El viaje de una vida 
Antonín Dvorak | Symphony No. 9 "from the New World" 
Bob Bernhardt, Guest Conductor 
Few events evoke as many emotional, nostalgic and visceral responses as New Year's Eve with The Symphony. Fan favorite Bob Bernhardt returns to guest conduct a rousing program of glitz, glamour and symphonic joy. This program sells out quickly; reserve your seats early!
Nir Kabaretti, Conductor
Alessio Bax, Piano
Cody Westheimer | Wisdom of the Water, Earth, Sky – World Premiere
Robert Schumann | Piano Concerto in A minor
Jean Sibelius | Valse Triste
W. A. Mozart | Symphony No. 40 in G minor
In collaboration with State Street Ballet and The Granada Theatre
Nir Kabaretti, Conductor
State Street Ballet, William Soleau, Choreographer
SB Choral Society, Jo Anne Wasserman, Director
Quire of Voyces, Nathan Kreitzer, Director
Music Academy's Sing! children's chorus, Erin McKibben, Director
Gabriel Fauré  | Pavane  featuring State Street Ballet in a ballet choreographed by SSB Resident Choreographer, William Soleau 
Camille Saint Saëns | Bacchanale from Samson and Delilah 
Carl Orff | Carmina Burana
A SAFE RETURN TO THE GRANADA THEATRE
Our top priority remains the health and safety of our patrons, staff and musicians. The Granada Theatre continues to create comprehensive safety protocols that meet changing government guidelines and ensure the comfort of audiences.
Throughout the season, we anticipate evolving guidelines which may impact policies on mask wearing, proof of vaccination, low-touch ticketing, concessions, and more
Read our 2022/23 Subscription and Ticket Policy which offers security to our patrons as you consider returning to join us for live performances, and ensure that as a subscriber you receive priority to reserve the best seats.