Education Programs
Overview
The Santa Barbara Symphony Music Education programs
Connecting musicians to kids, kids to music, and music to the community
Each year, the Santa Barbara Symphony provides children in Santa Barbara County with high quality, inclusive and accessible music education through its Music Education programs: a continuum of connected programs designed to support and engage students every step along their musical journey; fostering collaboration, confidence and community empowering students to be at their best through music.
"The student experience through the Santa Barbara Symphony's education programs is unmatched in the region. My student is proud to be a part of this community and has learned a lot."
Whether offering a young person their first experience holding an instrument to applying for college, the Symphony's Music Education programs are here…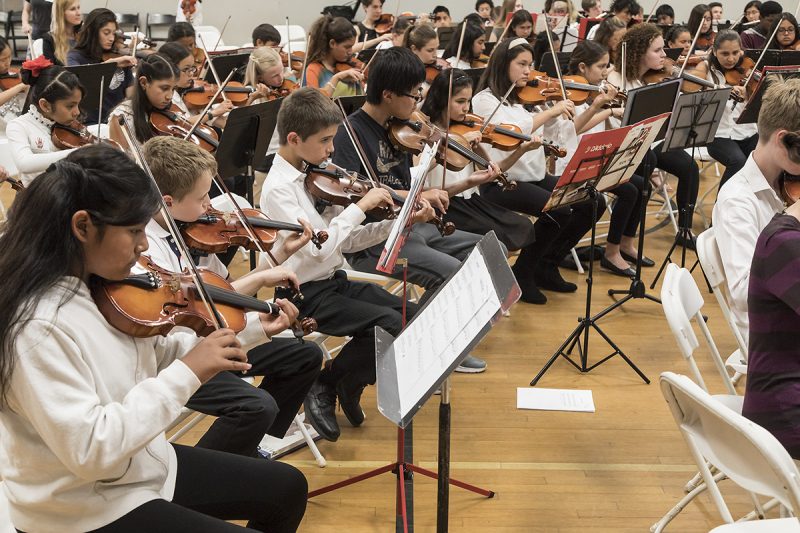 For the last 57 years the Santa Barbara Youth Symphony (SBYS) and its associated ensembles have provided an essential outlet for local young musicians to learn orchestral skills and repertoire. The original SBYS was founded in 1965 through the efforts of an enterprising high school student, Daniel Kepl. SBYS began its association with the Santa Barbara Symphony in 1968 through what started as a sponsorship. In 1974 SBYS became a standalone non-profit organization with a Board of Directors and strong parental involvement. The Symphony's longstanding association with SBYS evolved and in 2008 the Youth Symphony and companion program, Junior Strings merged to formally become a part of the Symphony's educational offerings. Over time, the Junior Strings grew into the Junior Orchestra and in 2017 expanded into the Camerata Ensemble and Philharmonia Orchestra we know today. Despite the worldwide challenges presented to arts education programs by the pandemic, the Santa Barbara Symphony's Youth Ensembles are thriving and growing.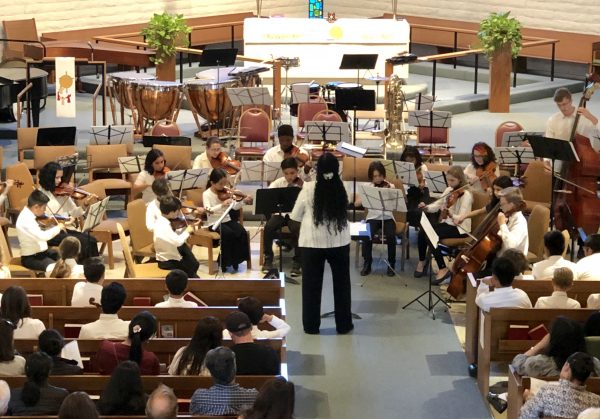 Beginner ensemble for string and band students.
Intermediate ensemble for string, woodwind, brass, and percussion students.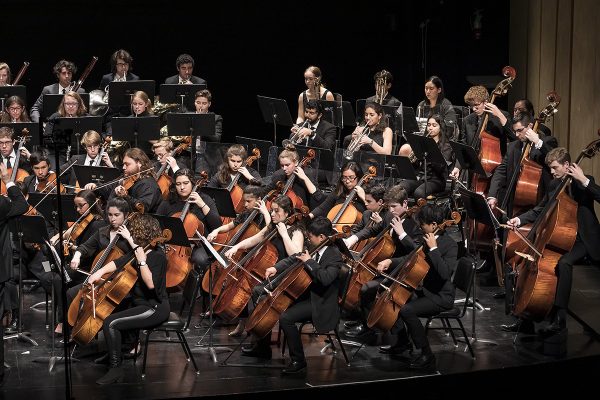 Advanced orchestra serving string, woodwind, brass, and percussion students.
Elementary-Level Programs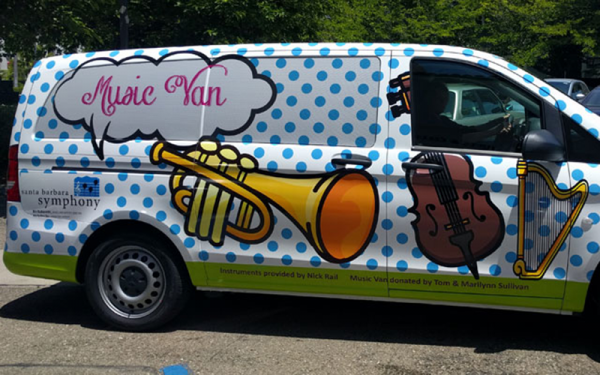 A mobile music classroom filled with instruments that tours 3rd grade classes throughout Santa Barbara county.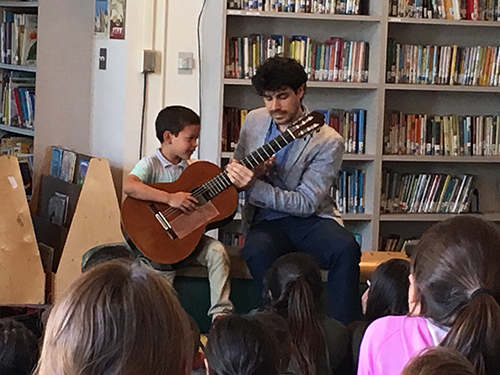 Where guest artists get up close and personal with our students and community.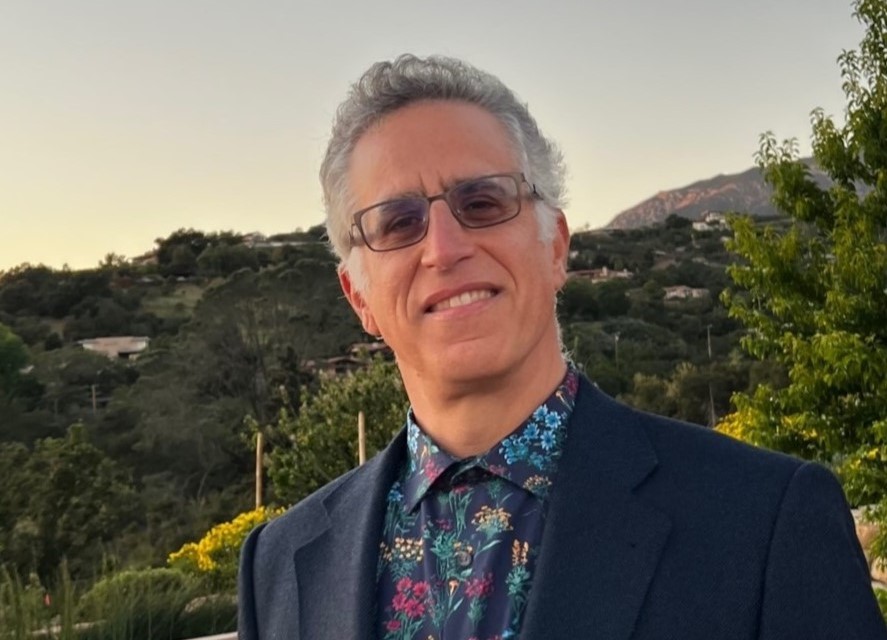 Conversations with Kabaretti
Engaging and fascinating talks on Sundays before the concert from 2-2:30pm. Conversations are led by the Maestro and open to all ticket holders.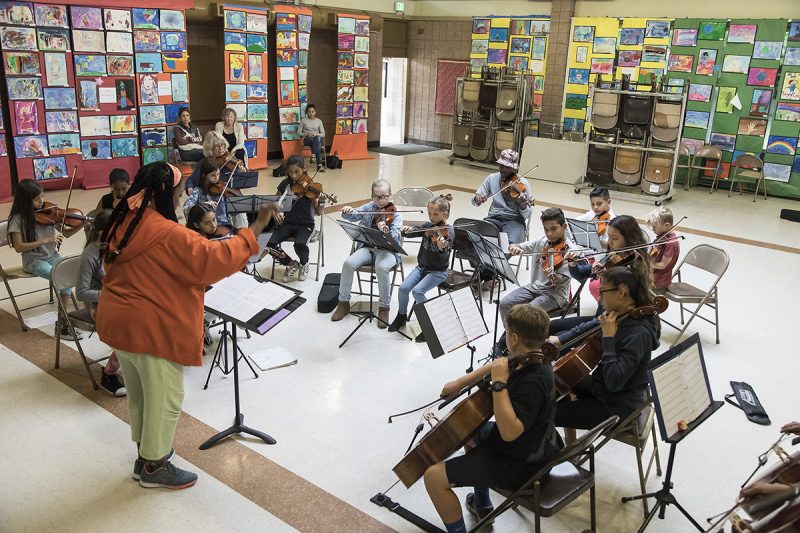 Through partnerships with school districts, community organizations, and supported by  generous individual annual donors, and local, regional and national funders, the Santa Barbara Symphony's Music Education programs are guided by these values…
Excellence: we provide weekly instruction during the school year led by local professional Teaching Artists. Students, teachers, and staff are held to the highest standards of musical excellence.
Equitable Access: we pride ourselves on providing music education to all children in Santa Barbara county. No student is turned away due to finances or access to an instrument.
Support: our team works together to create plans that encourage students to continually strive for the next level of skills.
Would you like to join our family of donors to support these programs? Annual donations at any level have a big impact. They can fund scholarships, help pay our faculty, provide instruments and more!