Update from our President & CEO
Click here to read this month's eNotes newsletter.
Join our eNotes Newsletter
Sign up for our newsletter to receive our 2023/24 Season Brochure and details about all of the exciting concerts and programs we have planned!
Each month you'll receive an email with Symphony insights, updates, and news!
The Symphony Music Van Program:
Book Your 3rd Grade Classroom Visit Today!
Introducing the instruments of The Symphony to students at an early age, the award-winning Music Van program visits over 40 schools in the greater Santa Barbara area each year. This unique program gives 3rd grade students a hands-on experience that sparks interest in taking up an instrument. This FREE program is made possible by Symphony donors.  Our Music Van Video produced during COVID is also available to any school and classroom free of charge.
Music Van students:
Learn about each of the instruments that make up a symphony orchestra
Watch how each instrument is played and hear its sound
Learn how to produce a sound on each instrument

Get inspired to play an instrument!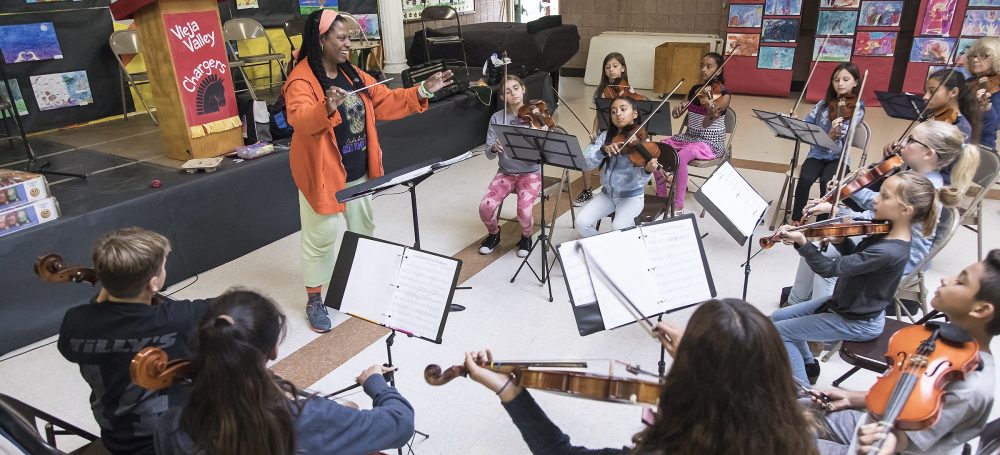 The Symphony Youth Ensembles program:
Rehearsals begin September 10th!
As the only youth orchestra program in the region connected to a professional symphony and a college, the Symphony's multi-level Youth Ensembles present a unique learning opportunity for young musicians to develop their skills and connect with music and each other.
Rehearsals begin September 10th, 2023. We are currently accepting late applications as space in the orchestras allow. To ensure appropriate ensemble placement, all new and returning students are required to audition.
Students playing oboe, bassoon, brass, or low strings are particularly encouraged to apply — but ALL orchestral instrumentalists in the 3rd to 12th grades are invited to audition!
Applications for the Santa Barbara Symphony Youth Ensembles are now OPEN! 
FOLLOWING THE NINTH
Special Gift for All Beethoven 9 Ticket Holders!
RESERVE YOUR BEETHOVEN 9 CONCERT TICKETS BY OCTOBER 10TH TO RECEIVE A NON-TRANSFERABLE LINK TO THIS FILM.
Filmed on four continents, this documentary film from writer, director, and producer Kerry Candaele— a Santa Barbara County native— looks at the global impact of Beethoven's hymn to humanity, his battle cry of freedom, his Ninth Symphony.
The Ninth was at Tiananmen Square in the Spring of 1989 during the student revolt. The same year, when the Berlin Wall came down, the Ninth was there to amplify the celebrations. Under the Pinochet dictatorship in Chile, women marched on torture prisons with the Ode To Joy as inspiration. And in Japan, the Ninth was there to repair and heal after the devastating Tsunami of 2011. Following The Ninth is both inspirational and hard-hitting, and a testament of hope.
Thanks to filmmaker and friend Mr. Candaele, The Symphony will be offering a private online screening to Beethoven 9 concert ticket holders. Meanwhile, enjoy this free video clip! 
Ted Nash Transformation Featurette
More than ever before—your support makes our impact possible
At the heart of the Santa Barbara Symphony's mission lies our goal to be an indispensable partner to our community, providing enrichment through inspiring concerts, music education programs, and access for everyone. A tax-deductible donation helps keep the music playing in Santa Barbara!