Join our eNotes Newsletter
Sign up for our newsletter to receive our 2023/24 Season Brochure and details about all of the exciting concerts and programs we have planned!
Each month you'll receive an email with Symphony insights, updates, and news!
The Santa Barbara Symphony
Music Van Program
Our traveling Music Van typically visits over 50 schools in the greater Santa Barbara area each year, giving students a hands-on experience with the instruments of the orchestra. We are thrilled to be offering our program in person again for the 2022-23 school year! Our Music Van Video is also still available to any school and classroom free of charge.
Learn about each instrument that makes up a symphony orchestra
Watch how each instrument is played and hear how each instrument sounds
Get inspired to learn your favorite instrument!
Music Education Program Updates and Events

The Santa Barbara Symphony's Music Education programs reach thousands of students every year and provide a continuum of connected programs designed to support and engage students every step along their musical journey, fostering collaboration, confidence and community.
Applications for the Santa Barbara Symphony Youth Ensembles are now OPEN! 
Apply by Monday, May 29, 2023. Auditions will be held June 10-11.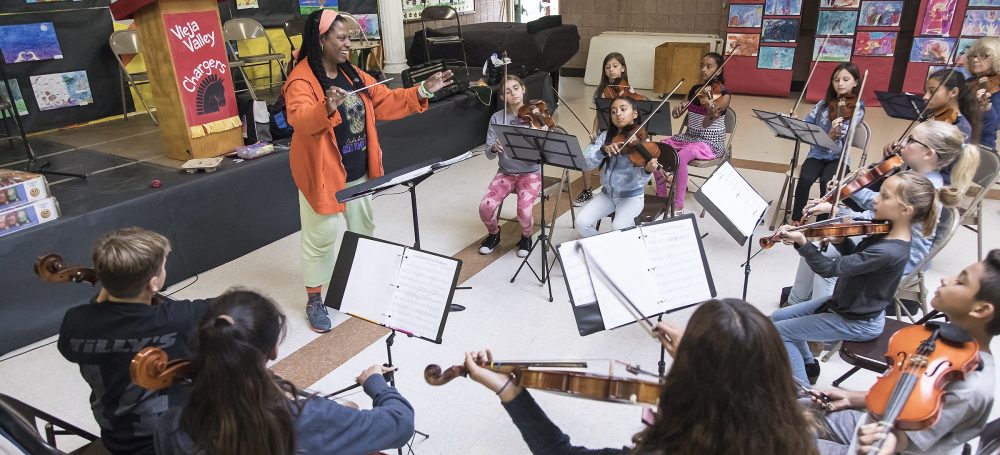 More than ever before—your support makes our impact possible
At the heart of the Santa Barbara Symphony's mission lies our goal to be an indispensable partner to our community, providing enrichment through inspiring concerts, music education programs, and access for everyone. A tax-deductible donation helps keep the music playing in Santa Barbara!