The Santa Barbara Symphony's
Music Van
Music Education Program for 3rd grade Students
"Thank you for bringing your instruments to my class and teaching us about the orchestra. I really liked the violin and the trombone. I didn't know what an oboe was, but you guys taught me about it and that's really cool. But I think I want to play clarinet because the sound is calming and smooth. THANK YOU MUSIC VAN FRIENDS!"
–3rd grader at Adams Elementary
A very warm and special thank you to our Music Van Donors
-- Marilynn and Tom Sullivan --
Music Van Sponsor
-- Nick Rail Music --
Music Instrument Sponsor
-- Mary Jane Cooper --
Our Amazing Volunteer Coordinator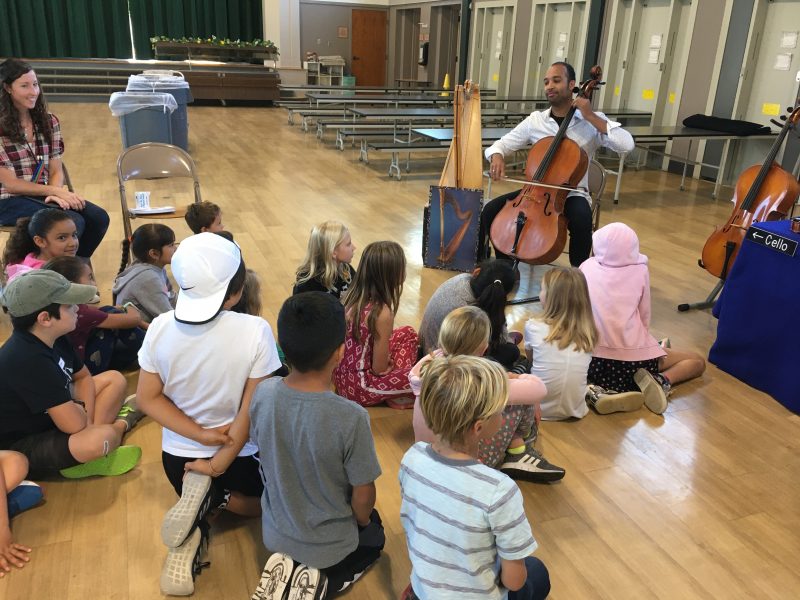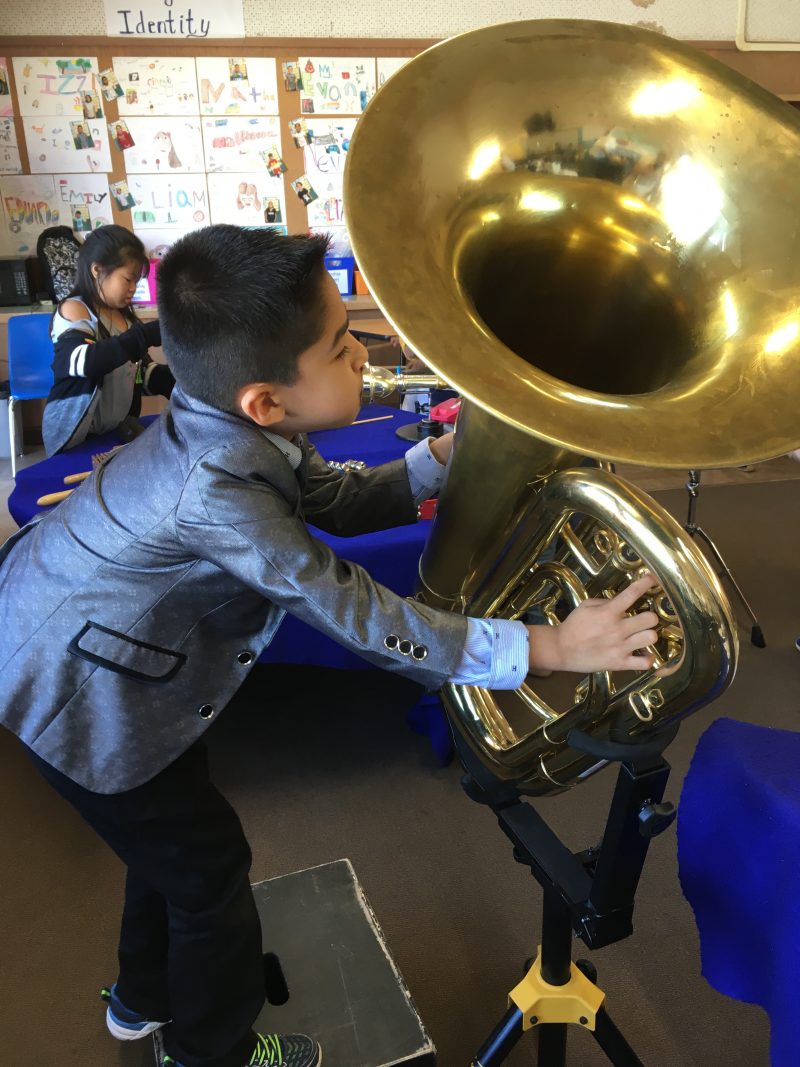 The Santa Barbara Symphony's Music Van program for Santa Barbara County's 3rd grade students has been in operation since 1978. Utilizing over 35 community volunteers, the Music Van is a mobile music classroom generously donated by Marilynn and Tom Sullivan in 2002 (vintage Music Van) and 2015 (new Music Van), filled with orchestral instruments, which were kindly donated by Nick Rail Music. We make annual visits to 3rd grade classrooms in the greater Santa Barbara area from October through February. The Music Van serves about 2,000 students in more than 40 schools each year. For many kids, the Music Van provides the first opportunity for them to see, hear and play a real musical instrument.
Music Van docents conduct a one-hour session with students. During the first half hour students are introduced to the orchestra, conductor, and the instruments. A CD is used to demonstrate the sound of each instrument and a professional musician accompanies the docents to demonstrate an instrument group (strings, woodwinds, brass, or percussion). The students are able to try out all the instruments during the second half hour, and this is the most fun part for them! There are usually two one-hour sessions at a school, and the teachers LOVE the program!
Registration for the Music Van's 2023-24 season will open in August 2023 and the Music Van will be visiting 3rd grade classrooms from October 9, 2023 to February 16, 2024. We are thrilled to present the 45th season of this award-winning program to local students!
Please use the link below to schedule a Music Van visit for your school, or contact us at education@TheSymphony.org or 805-898-1417 with any questions about the program.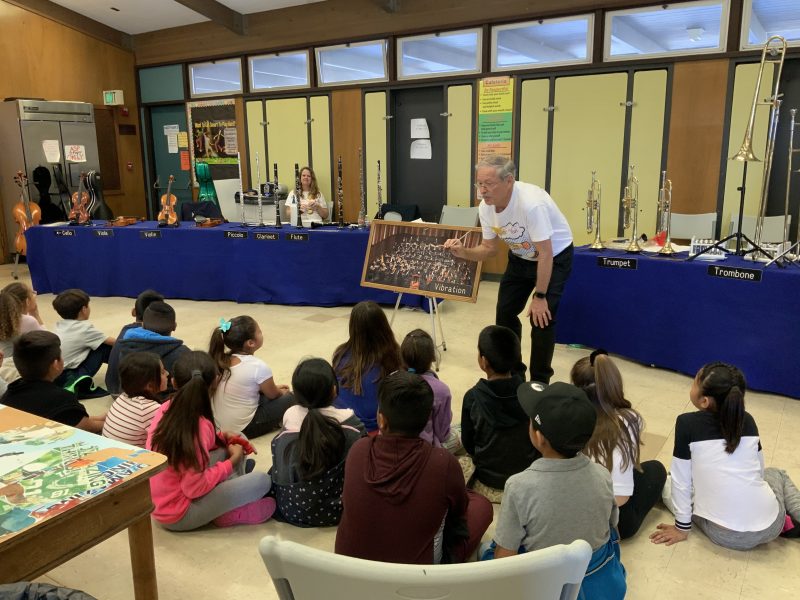 The Music Van Video and Mini-News
The Santa Barbara Symphony is pleased to share our Music Van Video which is available for viewing in your classroom! During the pandemic, our Music Education team had to think outside the box and developed this virtual experience for students to enjoy. Guided by docents and volunteers, a video spotlighting the Music Van and demonstrating the instruments of the orchestra was recorded at the Lobero Theatre.
The Music Van Mini-News is intended to be distributed to students as a companion to the Music Van experience, and contains information and fun activities for students to complete after watching the Music Van video.
You can make a difference!
As a non-profit organization, it takes approximately $30,000 annually to deliver this program to the community at no charge.  We rely on and are grateful for the community's generous support.  If you would like to help the Symphony bring this program into the community, please Donate by clicking the button below and select your acknowledgment to be attributed to The Music Van.
Fun fact: Over 50% of students in the Santa Barbara Youth Symphony received their first introduction to music with the Music Van program.
"The Music Van is critical to supplementing in-school music instruction. It sets a strong foundation for the future of my school orchestra and band classes."
–SBUSD Elementary Music Teacher
A very warm and special thank you to our Music Van Donors
-- Marilynn and Tom Sullivan --
Music Van Sponsor
-- Nick Rail Music --
Music Instrument Sponsor
-- Mary Jane Cooper --
Our Amazing Volunteer Coordinator