Santa Barbara Symphony and Maestro Kabaretti extend conductor's contract through 2023
Santa Barbara, CA. (April  2019) –  The Santa Barbara Symphony will enter its 66th Season full of excitement on the heels of a multi-year contract extension with the beloved Maestro Nir Kabaretti. With plans to continue to bring the highest quality performances to Santa Barbara audiences, the Board of Directors enthusiastically approved the contract extension with compliments to Kabaretti and excitement about the current and upcoming season.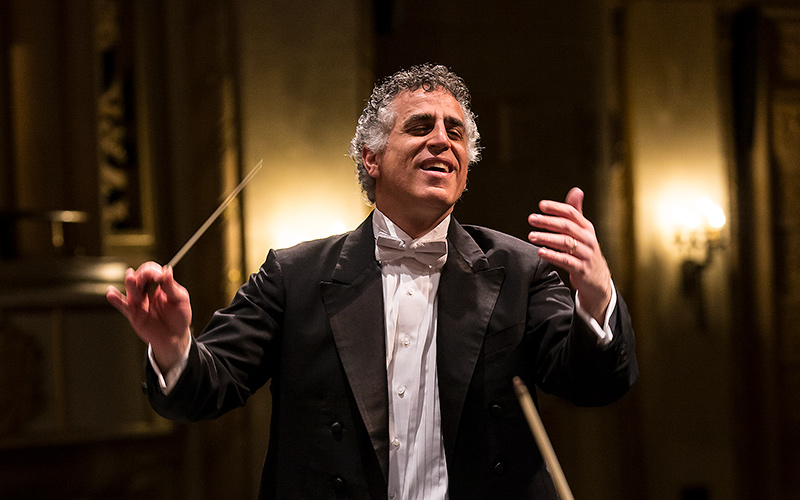 "On behalf of the Symphony's Board of Directors, it gives me great pleasure to share this news today, as we celebrate the unique musical artistry of Maestro Nir Kabaretti and the Santa Barbara Symphony," said Dr. Don Gilman, President of the Board of Directors. "Nir's magnificent musicianship, his extraordinary generosity of spirit, and his deeply felt connection to our community have brought the Santa Barbara Symphony and its audiences a whole new level of appreciation for the transformative power of great music, resulting from such a strong partnership between conductor and orchestra.  Having witnessed the remarkable response from our audiences to the Symphony's performances over the past 12 years, we are so grateful that Nir has accepted our invitation to stay with us at least through 2023 Concert Season for more exceptional music-making."
Kabaretti has been with the Santa Barbara Symphony since 2006, when he stood out as the clear choice among a pool of over 300 candidates for the position. Since then, he has used his vast experience and talent in symphonic and operatic repertoire to guide him in curating these past 12 seasons. A standout achievement has been his ability to select a balance of programs appreciated by long-time symphony supporters and attractive to new audiences. With the extension of Kabaretti's contract, the Symphony will continue its goal to reach even more broadly throughout the Santa Barbara community to keep people engaged and to attract new audiences.
Kabaretti conducted the Israel Philharmonic Orchestra, L'Orchestra del Maggio Musicale Fiorentino, Tokyo Philharmonic Orchestra, Orquesta Filarmonica de Buenos Aires, Orquestre National du Theatre du Capitole de Toulouse, Orchestra del Teatro Carlo Felice di Genova, Orchestra Sinfonica di Milano "La Verdi", Zagreb Philharmonic Orchestra, Belgrad Philharmonic Orchestra, Jerusalem Symphony Orchestra, Israel Symphony Orchestra of Rishon Le Tzion, Haifa Symphony Orchestra, Vienna Chamber Orchestra, Niederösterreichisches Tonkünstlerorchester, La Orquesta Sinfonica de Madrid, La Orquesta Filarmonica de Gran Canaria and the Bochumer Symphoniker.
Kabaretti and his wife Gaja Hubbard and their two children reside in Santa Barbara.
The Santa Barbara Symphony looks forward to sharing the upcoming season of thrilling and inspired programming with the community and visitors alike! For more information on the Santa Barbara Symphony, or its programming, visit
https://thesymphony.org
.