WELCOME TO THE 2023/24 SEASON
NEW SUBSCRIPTIONS ON SALE MAY 2023!
RENEW YOUR SEATS for the 2023/2024 Season TODAY.
From October 2023–May 2024, award-winning, established and emerging talent join The Symphony to create powerful performances with moments of awe, connection, and joy – through unique collaborations and partnerships, artist residencies, intimate musical gatherings, and more!
As an employer, content creator, educational partner, and community collaborator, we draw upon and are inspired by our city's extraordinary creative resources, attracting and fostering relationships with national and international artists. This commitment, to creating symphonic experiences for you that are possible only here in Santa Barbara, is what sets us apart. And this year, we're doing it in a BIG way!
*All programs and artists are subject to change.
Beethoven 9: An Ode to Joy, Hope & Community
October 14 & 15, 2023
Our 2023/24 Season opens with a celebration of the 200-year anniversary of Beethoven's Symphony No. 9. In an impressive collaboration of four choral groups and a quartet of soloists, Nir Kabaretti conducts more than 200 performers—all with ties to Santa Barbara. Combined with Copland's stirring orchestral composition "The Promise of Living", capturing the essence of 1930s rural America and Franz Liszt's Les Préludes, a symphonic poem of sweeping melodies and dramatic mood shifts, this concert is sure to be an Ode to Joy.
Nir Kabaretti, Conductor
Santa Barbara Choral Society, Jo Anne Wasserman, Artistic Director & Conductor 
SBCC Quire of Voyces, Nathan Kreitzer, Music Director,
Westmont College Choir, Daniel Gee, Director of Choral Activities
Members of the Santa Barbara Gay Men's Chorus, Timothy Accurso, Artistic Director
SOLOISTS
Johanna Will, Soprano
Christina Pezzarossi Ramsey, Mezzo-Soprano
John Matthew Myers, Tenor
Cedric Berry, Bass-Baritone
PROGRAM
Aaron Copland | "The Promise of Living", from The Tender Land
Franz Liszt | Les Préludes
Ludwig Van Beethoven | Symphony No. 9 "Choral"
Musical e-Motion: Featuring Time for Three
November 18 & 19, 2023
Part of the California Festival: A Celebration o New Music
This is a symphonic journey that will transport you through time and space! The infectious high-energy artistry of Grammy®-winning string trio Time for Three will have you on the edge of your seat with Contact, a triple concerto that explores the human experience, from acclaimed American composer Kevin Puts. Borodin's Polovtsian Dances keeps the energy pulsating with its powerful & energetic rhythms. The pace mellows as the journey concludes with Georges Bizet's L'Arlésienne Suite No. 2 evoking the sights and sounds of rural France and Ravel's haunting La Valse.
Nir Kabaretti, Conductor
Time for Three, String Trio
PROGRAM
Kevin Puts | Contact
Alexander Borodin | Polovtsian Dances 
Georges Bizet | L'Arlésienne Suite No. 2 
Maurice Ravel | La Valse
Opera at The Symphony: Fan Favorites
January 20 & 21, 2024
Featuring Opera Santa Barbara Soloists
Soloists from Opera Santa Barbara join The Symphony in a celebration of some of the greatest opera music of all time. Experience the rapture of unforgettable moments of grand opera by Verdi, Rossini, Puccini, Wagner, and others, including Madame Butterfly, Cavalleria Rusticana, and Tosca. With local TV personality Anikka Abbott a concert program of deception, romance, and tragedy unfold!
Nir Kabaretti, Conductor
Karin Wolverton, Soprano
Deborah Nansteel, Mezzo Soprano
Adam Diegel, Tenor 
Timothy Mix, Baritone
Anikka Abbott, Emcee 
Serenade for Romance: The Sounds of Love & Beauty
February 17 & 18, 2024
This strings-forward program is certain to bring out your inner romantic. Elgar's Serenade for Strings is a beautiful and intimate work full of rich harmonies and delicate textures that create a sense of intimacy and warmth. Dvořák's expressive, Slavic-inspired melodies that make the most of the violín's lyricism and showcases the impeccable technique of celebrated guest violinist Sirena Haung will feel like a love letter to the violín. Iconoclast French composer Louise Farrenc's Symphony No. 3 in G in minor, considered almost heretical for its time, brings the program full circle.
Nir Kabaretti, Conductor
Sirena Huang, Violin 
PROGRAM
Edward Elgar | Serenade for Strings in E minor, Op. 20
Antonin Dvořák | Concerto for Violin and Orchestra in A minor, Op. 53
Louise Farrenc | Symphony No. 3 in G minor, Op. 36
An Oscar® Celebration: Favorite Film Clips with Live Orchestra
March 16 & 17, 2024
In collaboration with the Granada Synergy Series
Experience the glamor and nostalgia of Hollywood's Golden Age of Oscar®! Relive the memories of iconic movies and their indelible symphonic soundtracks. Classic scenes are presented via the Granada's giant screen with The Symphony on stage playing live. Featuring music from Gone with the Wind, An American in Paris, The Wizard of Oz, and more.
Constantine Kitsopoulos, Guest Conductor 
PROGRAM
Erich Wolfgang Korngold | The Adventures of Robin Hood
Max Steiner | Gone with the Wind
Miklos Rozsa | Ben Hur
Bernard Hermann | Citizen Kane
George Gershwin | An American in Paris
Herbert Stothart | The Wizard of Oz
Mahler Meets Klezmer: Titans of Sound
April 20 & 21, 2024
This concert will leave you in awe, starting with Mozart's Overture to Abduction from the Seraglio, K.384. Prepare to be blown away by David Krakauer's stunning performance of Wlad Marhulets' Concerto for Klezmer Clarinet, which combines traditional Klezmer (traditional Jewish & East European) music with classical instrumentation to create a truly unique and captivating sound. As for Mahler's emotional masterpiece Symphony No. 1 in D major, "Titan," you will understand why this performance is subtitled Titans of Sound.
Nir Kabaretti, Conductor
David Krakauer, Clarinet
PROGRAM
Wolfgang Amadeus Mozart | Overture to Abduction from the Seraglio, K.384
Wlad Marhulets | Concerto for Klezmer Clarinet
Gustav Mahler | Symphony No. 1 in D major, "Titan"
Rhapsody in Blue @ 100: Jazz Comes to The Symphony
May 18 & 19, 2024
Artist Residency in Collaboration with the Lobero Theatre
Classical and jazz aficionados unite in this commemorative concert highlighting 100 years of Rhapsody in Blue. Gershwin's creation is one of the most recognizable compositions to define the Jazz Age. The virtuosic and audience favorite Marcus Roberts trio will pay homage in an unforgettable, toe-tapping performance of Roberts' own re-conceived composition for piano and orchestra Rhapsody in D. Ives' Symphony No. 2 will round out the concert with a blending of traditional orchestral sounds, hymns, and marches.
Nir Kabaretti, Conductor
Marcus Roberts Trio
PROGRAM
George Gershwin | Rhapsody in Blue 
Marcus Roberts | Rhapsody in D
Charles Ives | Symphony No. 2
Extra! Extra! One Night Only!
New Year's Eve with The Symphony: Timeless Classics – A Celebration of Rock, Pop & Broadway! 
December 31, 2023
Andrew Lipke, Guest Conductor & Host
PROGRAM
Conductor and host Andrew Lipke continues the New Year's Eve tradition with a set of Pop, Rock & Broadway classics that will have you dancing in the aisle. Lipke trades the conductor's baton for his guitar to create some symphonic surprises! The traditional salute to the military and Auld Lang Syne sing-along will round out the evening to create your own timeless memories.
SAFE RETURN AT THE GRANADA THEATRE
Our top priority remains the health and safety of our patrons, staff and musicians. The Granada Theatre continues to create comprehensive safety protocols that meet changing government guidelines and ensure the comfort of audiences. Their state of the art HVAC system refreshes the entire volume of air nine times an hour.
Between now and the first performance of the season, we anticipate evolving guidelines which will impact policies on mask wearing, proof of vaccination, and concessions.
PRIORITY 1 SUBSCRIBERS COME FIRST—Your Questions Answered
What seats do I have? 
As a PRIORITY 1 Subscriber, your seats from the 2022/23 subscription package are being held for you until June 16th. You're eligible for Early Renewal Bonuses if you renew by May 10th.
What are the Early Renewal Bonuses if we renew by May 10th?
When you renew by May 10th, you can receive 2 complimentary tickets to our 2022/23 Season Finale: Platinum Sounds: The Symphony Turns 70 so you can share your love of The Symphony with your friends (mark your day request on your renewal form).
Can I change my seats? 
Yes* We are following a specific schedule to ensure renewing subscribers receive first priority. To request a seating change, you must first RENEW your subscription, and indicate that you are requesting a seating change. Your request will be prioritized. Then, after the renewal period, PRIORITY 1 requests will be processed in the order they were received. *Renew by June 16 to reserve your seats or receive priority for seat change requests.
When will I receive my tickets?
Tickets will be mailed to you (or available for pick up) after Labor Day.
Will there be a Season Brochure?
Yes! Keep an eye on your mailbox for our 2023/24 Season brochure, which will arrive in May.
How can I sponsor a concert, guest artist, or selection? / How can I join the Heritage Society or Crescendo? / How can I support your music education programs?
To discuss any of our vital programs that impact our community, please contact Juli Askew, Development Manager at jaskew@TheSymphony.org or (805) 898-8785.
When will tickets & subscriptions open to the general audience?
New subscriptions will become available in early May, and single tickets will become available after Labor Day.
As a Priority 1 Subscriber, you are seeing the Season first in order to lock in your seats!
COMING SOON: Full Season Press Release
COMING SOON: Full Season Subscription Brochure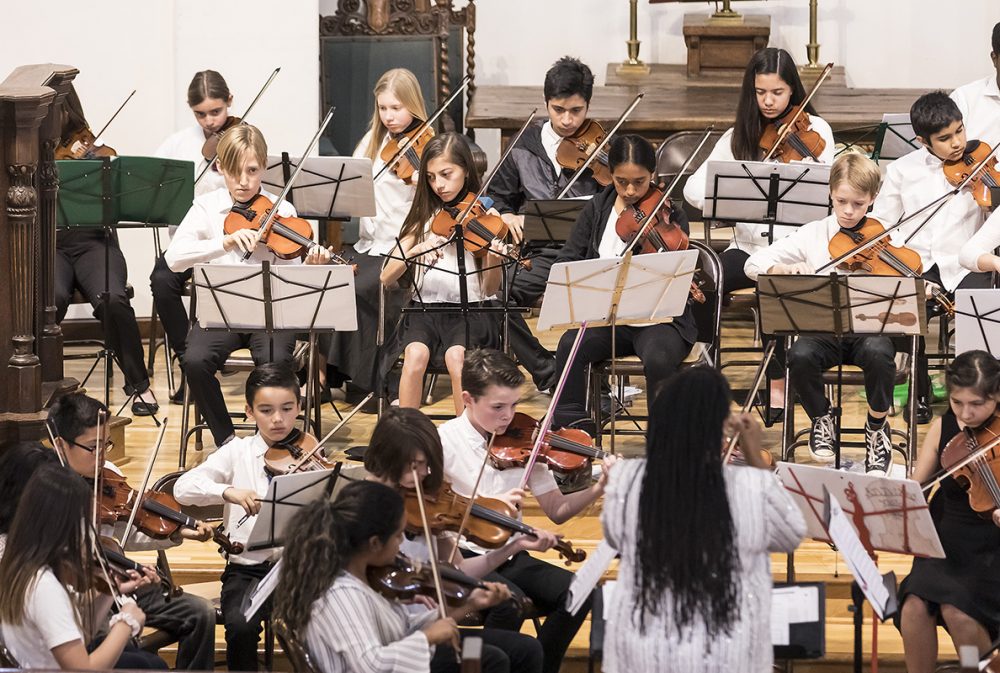 BE INSTRUMENTAL
Please consider including a donation with your subscription renewal. Your generosity supports our musicians and students, and allows us to continue to present world-class performances.
Have additional questions? You can reach us by phone at (805) 898-9386 or email info@thesymphony.org.