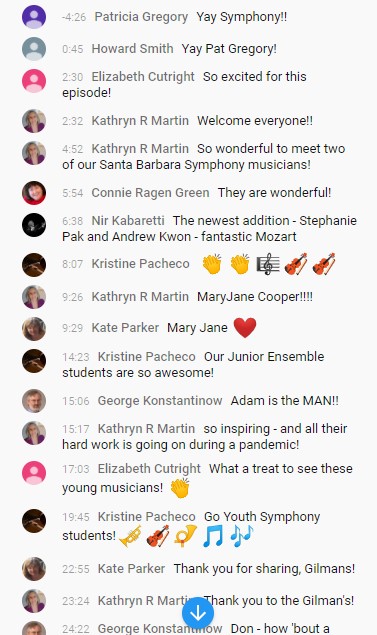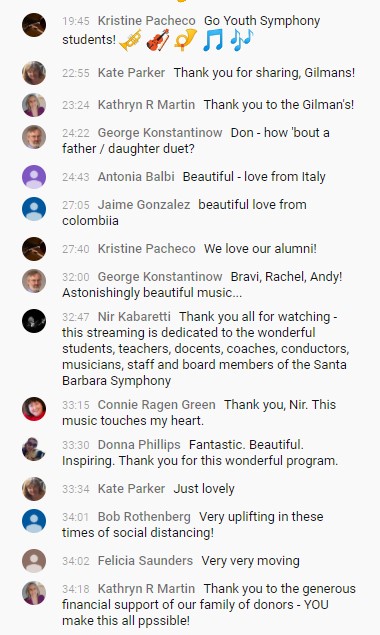 What a joy it is to see our students keeping the music alive in these challenging times. All of us at the Symphony work hard to ensure our music students have access to this indispensable experience, playing with others who share their passion for making music together.
This episode will feature student musicians from the Junior Ensemble, & Youth Ensemble representing several local schools including La Colina Junior High, Peabody Charter School, Hollister Elementary, La Cumbre Junior High, Goleta Valley Junior High, Hope Elementary School, Adams Elementary, Ventura High School, Dos Pueblos High School, Cate School, and San Marcos High School. Some of these young musicians will choose to continue their passion into the professional musical world, like Emily Gilman, who graduated from our MEC and continued her music studies at the Chicago Conservatory. Also in this episode, two of the Symphony's newest members – Stephanie Pak and Andrew Kwon – who both played their debut concert with the symphony just last October. Stephanie and Andrew perform a beautiful Mozart Duo for Violin and Viola.
Finally, we end with an exclusive clip from Lorenzo DeStefano's documentary, "Hearing is Believing," we'll hear about a collaborative project between the Santa Barbara Youth Symphony and local composer, Rachel Flowers.
In normal years, the Santa Barbara Symphony provides more than 10,000 children in Santa Barbara County with high quality, equal-access music education through its Music Education Center: a pipeline of connected programs designed to support students every step along the way. This excellent music education program is made possible through the commitment of our hardworking teachers, students, and families, AND through the generous support of the our Symphony donors, sponsors, and funders who support music education. If you would like to support the Symphony in delivering these indispensable programs, consider making a donation today.
Thank you to our 20-21 Season Family of Supporters!
M. and C. Amer, Mr. Charles Cagara, The Roger A. Clarke Classical Trust, California Arts Council, Donovan and Kathy Chalfant, Harry Chanson Scholarship Fund, Stillman and Nancy Chase, City of Goleta, Andrew and Mary Jane Cooper, Léni Fé Bland Performing Arts Partnership, Grace Fisher Foundation Allies for the Arts, George H. and Olive J. Griffiths Charitable Foundation, The Hamister Foundation, Ted and Andrea Hoelter, Karin Klein, Marjorie Luke Theatre, Richard and Yakko Meyers, Performing Arts Scholarship Foundation, Mary K. and Edith Pillsbury Foundation, Professional Musicians Association Local 308, AFM, Nick Rail Music, Santa Barbara Bowl Foundation, Santa Barbara Education Foundation, Santa Ynez Band of Chumash Indians Foundation, Mrs. Richard Schall, Howard Jay Smith and Patricia Dixon, Sonos, Inc., Marilynn L. Sullivan, The Stone Family Foundation, The Walter J. & Holly O. Thomson Foundation, The Towbes Foundation, Village Properties Teacher's Fund, Williams-Corbett Foundation, Zegar Family Fund, Dick and Ann Zylstra, Anonymous